mold max - Tin Cure Silicone Mold Rubber
mold max

Tin Cure Silicone Mold Rubber
Mold Max RTV silicone mold rubbers will reproduce the finest detail from a variety of industrial and art related applications including reproducing prototypes, furniture, sculpture and architectural elements. Use them to cast a variety of materials including wax, gypsum, low melt alloys/metals and urethane, epoxy or polyester resins (without using a release agent).
Highlights:
Mold Max 10, 20, 25, 30 and 40 Used in various production applications from small to large scale like making architectural elements. Mold Max 10, 20, 25 and 30 silicone can be thickened with THI-VEX additive for brush-on applications.
Mold Max 14NV and 29NV Offer low viscosity, fast cure and long library life. Mold Max 14 NV and 29NV do not require vacuum degassing and will reproduce the finest detail.
Mold Max STROKE Self-thickens for making fast brush-on molds of almost any model. 4 thin layers is all that is necessary to make a strong and durable production mold for casting wax, gypsum, concrete or resins.
Mold Max T Series Mold Max 10T, 15T and 27T allow for an infinite number of color effects that can be achieved by adding Silc Pig silicone pigments or Cast Magic powders.
Mold Max 60 Formulated for applications requiring high heat resistance (up to 560°F/294°C) including making foundry patterns, flat pattern reproductions and casting low-melt metal alloys such as tin and pewter.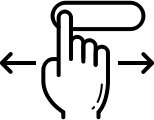 | | | | | |
| --- | --- | --- | --- | --- |
| SELECT A PRODUCT BELOW | HARDNESS SHORE A | POT LIFE | CURE TIME | COLOR |
| Mold Max 10 | 10 | 45 min. | 24 hrs | Light Pink |
| Mold Max 20 | 20 | 45 min. | 24 hrs | Light Pink |
| Mold Max 25 | 25 | 60 min. | 24 hrs | Purple |
| Mold Max 30 | 30 | 45 min. | 24 hrs | Pink |
| Mold Max 40 | 40 | 45 min. | 24 hrs | Mint Green |
| Mold Max 60 | 60 | 40 min. | 24 hrs | Red |
| Mold Max 14NV | 14 | 40 min. | 4 hrs | White |
| Mold Max 29NV | 29 | 40 min. | 6 hrs | Yellow |
| Mold Max 10T | 10 | 45 min. | 24 hrs | Translucent |
| Mold Max 15T | 15 | 45 min. | 24 hrs | Translucent |
| Mold Max 27T | 27 | 45 min. | 24 hrs | Translucent |
| Mold Max STROKE | 30 | 30 min. | 16 hrs | White |