dragon skin - High Performance Silicone Rubber
dragon skin

High Performance Silicone Rubber
Dragon Skin™ silicones are used for a variety of applications, ranging from creating skin effects and other movie special effects to making production molds for casting a variety of materials. Due to their superior physical properties and flexibility, they are also used for medical prosthetics and cushioning applications. Easy To Use – Dragon Skin™ high performance platinum cure silicone rubbers can be mixed 1A:1B by volume without need for gram scales or by weight for precise measurements even at a very low mass and cure at room temperature with negligible shrinkage.
The superior physical properties and flexibility of Dragon Skin™ 10, 20, and 30 rubbers means that cured Dragon Skin™ is very strong and very "stretchy". It will stretch many times its original size without tearing and will rebound to its original form without distortion.
Highlights:
Dragon Skin™ 10 and FX-Pro™ are used around the world to make spectacular skin and creature effects that are skin safe and certified by an independent laboratory.
Dragon Skin 10 NV has a low viscosity formulation, it does not require vacuum degassing and also has a 663% elongation, stretch, which allows you to eliminate the need for a cut seam on some models.
Important:
Dragon Skin silicones are not compatible with: materials containing sulfur such as clays, latex, condensation or tin silicones, newly cast polyester, epoxy, some types of 3D printing materials and some metal alloys containing tin.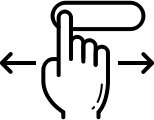 | | | | |
| --- | --- | --- | --- |
| SELECT THE PRODUCT BELOW | HARDNESS SHORE A | POT LIFE | CURE TIME |
| Dragon Skin 10 VERY FAST | 10 | 4 mins | 30 mins |
| Dragon Skin 10 FAST | 10 | 8 mins | 75 mins |
| Dragon Skin 10 MEDIUM | 10 | 20 mins | 5 hrs |
| Dragon Skin 10 SLOW | 10 | 45 mins | 7 hrs |
| Dragon Skin 10 NV | 10 | 15 mins | 75 mins |
| Dragon Skin 10 AF Anti Fungal | 10 | 20 mins | 5 hrs |
| Dragon Skin 15 | 15 | 40 mins | 7 hrs |
| Dragon Skin 20 | 20 | 25 mins | 4 hrs |
| Dragon Skin 30 | 30 | 45 mins | 16 hrs |
| Dragon Skin FX-Pro | 2 | 12 mins | 40 mins |